Parking and street access will be limited in Cloverdale during the 2022 Edmonton Folk Music Festival.
Temporary barricades will be set up at all street access points at 98 Avenue. All vehicles will need either a Parking Pass or Vehicle Access pass to enter the neighbourhood during the festival.

The City of Edmonton will enforce the

On-Street Parking Program

starting

9:00 AM on Thursday August 4

, until

Monday, August 8 at 7:00 AM

.  

To alleviate vehicle congestion, you are encouraged to park on your own private property as much as possible during the festival.
There are three pass types: Vehicle Access, On-Street Parking, and Commercial Parking.
Vehicle Access Passes
Residents can pick up their Vehicle Access Passes to access the neighborhood to park in a private garage or driveway. Each resident (including residents in condos, multi-unit buildings, detached houses) should pick up a pass for their vehicle.
Note: Residents are not allowed to park on the street using this pass. Street parking requires a On-Street Parking Pass.
Bring your Government Issued photo ID to pick up your Vehicle Pass at Culina at The Muttart at these times:
Tuesday, August 2: 5pm to 9pm
Wednesday, August 3: 5pm to 9pm
On-Street Parking Passes
This pass allows you to park on the street. You must pick up your pass at Culina at The Muttart at these times:
Tuesday, August 2: 5pm to 9pm
Wednesday, August 3: 5pm to 8:30pm
On-Street Passes are available to these residents:
Detached, single family residences are allotted (2) On-Street Parking Passes.

98 Avenue residences not on a corner lot (such as The Clove and Cloverdale Hill Condos) do not receive On-Street Parking Passes.

Condominiums along 98 Avenue where the units are on a corner lot will receive (5) On-Street Parking Passes per corner lot. An authorized representative from the Condominium Association will need to pick up the allotted On-Street Parking Passes. Distribution of these passes will be done by the Condominium Association.

The River's Edge Condominium complex (the fourplexes located on 91 Street, off of 98 Avenue) will receive 1 On-Street Parking Pass per unit.

Multi-family units that are not condominiums (e.g. duplexes, fourplexes, and basement suites) receive one On-Street Parking Pass per unit.
Extra On-Street Passes
Passes left unclaimed will be forfeited so that they can be provided to other residents requesting more passes. Residents requesting additional passes MUST arrive in person at 8:30pm on Wednesday, August 3 to receive extra passes, if extra passes are available.
Commercial Parking Passes
This pass is for businesses operating in Cloverdale, contractors, or other service providers who need parking during the first two days of the festival. These passes are only effective from 7am to 5pm on Thursday and Friday.
Road Changes & Closures
Please review the map below for Road Closure and One-Way information.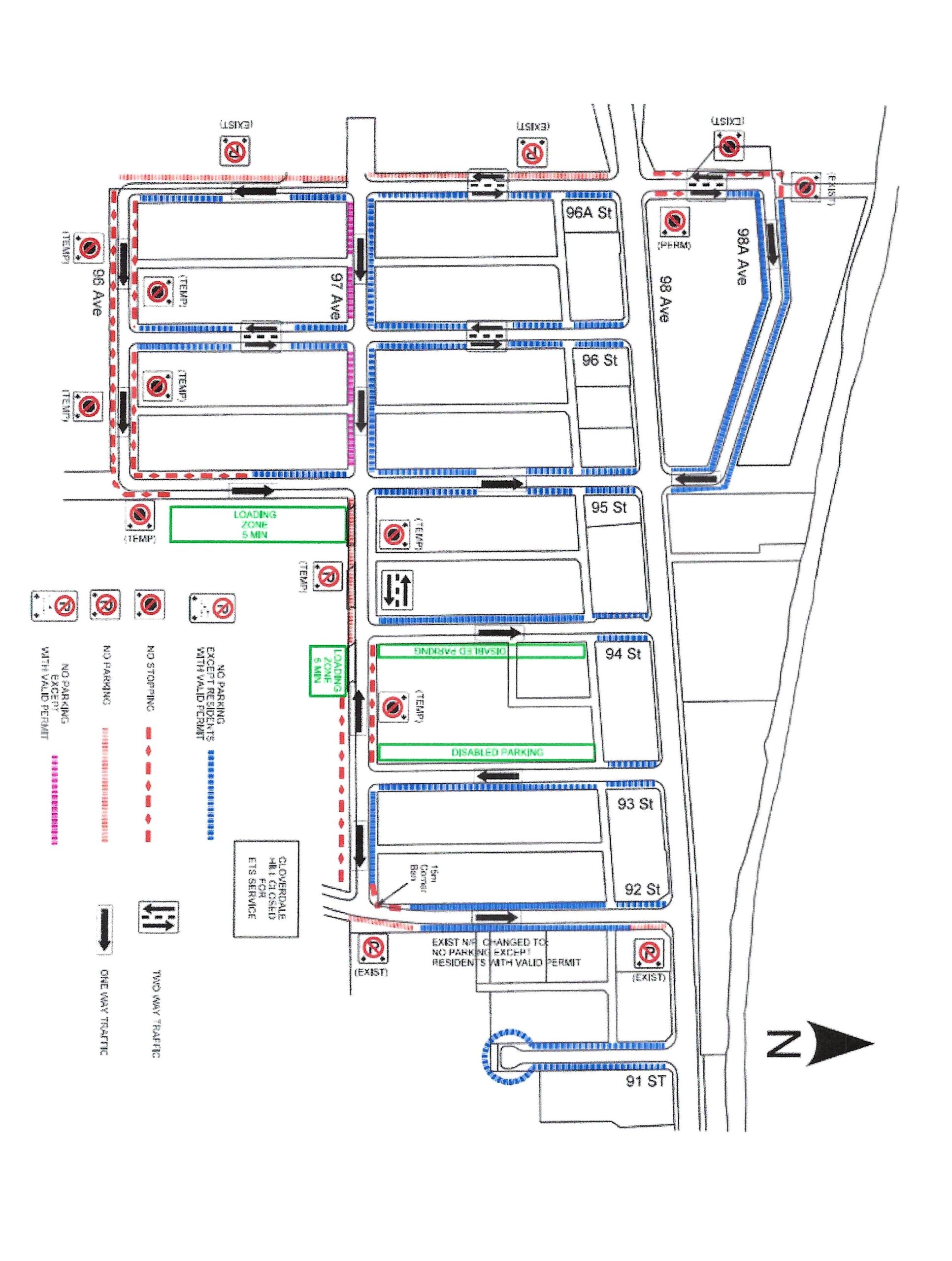 A vehicle is blocking my private driveway. What do I do?
Call the Cloverdale Folk Festival Liaison Committee at the number shown below, and the City will be notified that the vehicle needs to be towed.
780 498 6216 or folkfest@cloverdalecommunity.com
Questions & More Info
Folk Festival General Information: Including festival line-up, festival times, etc. Please visit the Folk Fest website at edmontonfolkfest.org
For Parking or Vehicle Access Pass Questions: Contact your Cloverdale Folk Festival Liaison at 780-498-6216 or folkfest@cloverdalecommunity.com