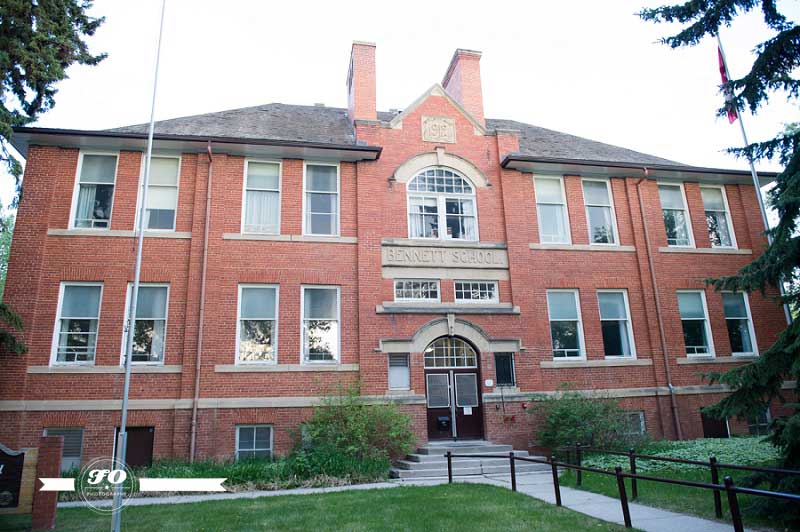 The Bennett story had its beginning in the year 1912. Edmonton was booming with rapid growth and the changes brought about by amalgamation with Strathcona.
Students from Gallagher Flats were attending Riverside school at the southeast end of the Low Level Bridge. The school (also known as the Bridge School) was typical of the many temporary schools of the day and consisted of two overcrowded rooms in a converted two-story house.A new school was badly needed and the residents of the flats south of the river probably made their views known.
Plans for a new school were soon underway and completed by July 11, 1912. Although the new school was at first intended to be a two-room brick structure, the first tenders were recalled and plans were made to build a four-classroom school. Bennett School was named in honor of Strathcona's first mayor and early school trustee Thomas Bennett.
Looking back to the year 1913, it was a proud group of 128 students and four teachers who left the old temporary "Bridge School" for their new classrooms at Bennett School. This happy event was recalled in the words of the first principal Edward Bell in a letter written by him in 1963:
"On the last day of school, before Easter, we organized a Grand March to the new school, each carrying their own books, and also as much of the classroom supplies as they were able."
The end of a 60-year era of continuous schooling came in 1973 when the doors of "Old Mother Bennett" were closed. Standing empty and unused, the building was refurbished and brought back into short-term services as the first office of the '78 Commonwealth Games. (The games were being spearheaded by former Bennett Principal and the Edmonton Mayor, Ivor Dent.) During the late '70's the school became a temporary office for the Capital City Parks Planning Authority.
The spirit of Bennett's past traditions were reborn in 1981 when the Edmonton Public School Board reopened the school as Bennett Environmental Education Centre in commemoration of Alberta's 75th Anniversary. A residence wing was added to the existing 1912 building as a cooperative project between the Edmonton Public School District and the Edmonton Municipal 75th Anniversary Committee. With the reopening came a new staff and new beginning.
Then in August of 2008 the residence wing suffered a major fire demolishing it completely. Thankfully there was no damage to the original 1912 structure. The residence was re-built and open again in March of 2010. Today, students, teachers, and parents from across Alberta visit Bennett to participate in overnight school programs, day programs, environmental lessons, and outdoor activities. The sound of young voices are once again to be heard around Bennett, as students venture outward to explore the rich heritage of Cloverdale and the nearby valley parkways.