Edmonton Folk Music Festival
Edmonton Folk Music Festival is an annual, four-day, outdoor music celebration held the second weekend of August in Cloverdale. The festival continues to draw many people from around the world as both spectators and performers. The current producer of the festival is Terry Wickham.
The festival showcases performers in many genres. Most years, folk, Celtic, bluegrass, blues, gospel, roots, and worldbeat acts perform. Past main stage performers include k.d. lang, Joni Mitchell, Stan Rogers, Great Big Sea, Oysterband, Loreena McKennitt, Norah Jones, SteveEarle, The Blind Boys Of Alabama, David Gray, Neko Case, Van Morrison, David Byrne and Michael Franti. In addition to mainstage and side stage concerts by individual artists, the festival has artists collaborate on shared stages.
During the daytime hours of the festival, there are six active stages hosting workshops and concerts. Food vendors number in the dozens, ranging from carnival fare to vegetarian and world cuisine. A tent village houses craftspeople and there is an album tent where the performers' albums can be purchased. There is also a large and busy beer garden, which serves more beer than any other single event in western Canada.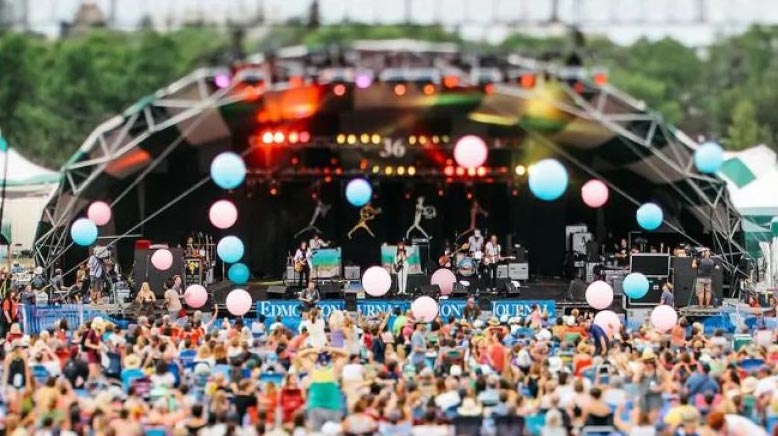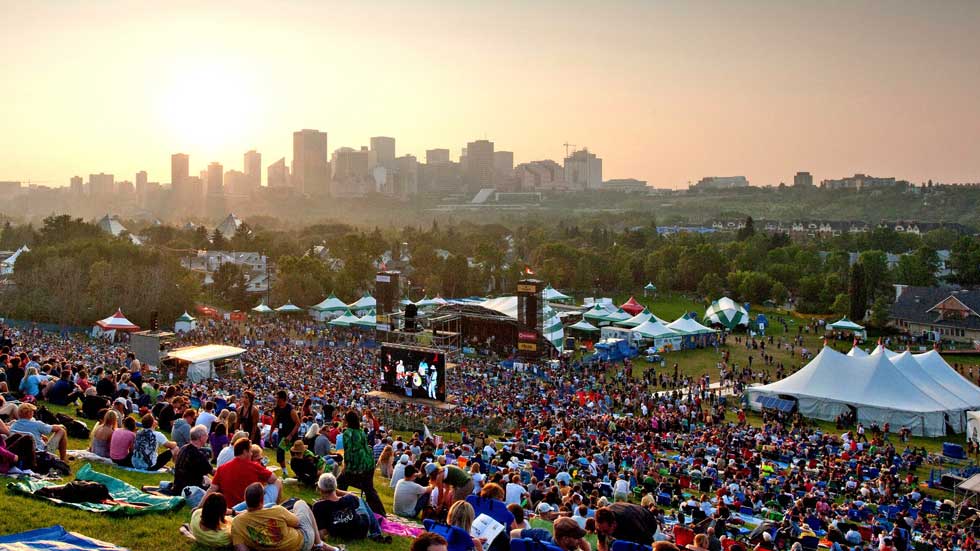 The EFMF relies heavily on volunteers which keeps ticket prices down. Volunteers do everything from picking garbage to working as stage hands. There are approximately 2,300 people on the volunteer list each year.
Folk Fest is held at Gallagher Park, in Cloverdale. During the winter the area is a ski club. The mainstage audience seating is a natural amphitheatre with great sightlines.
The skyline of downtown Edmonton acts as a backdrop for the stage. For two years, a fifth evening of music was added, with revenue from that concert being dedicated to the festival's endowment fund. Since 2011, the festival has been four days. The festival is extremely successful, and has sold out for 21 years (as of 2015) (12,000 weekend passes and 1,000 single-day tickets evenly divided between in-person and online sales) in just minutes.
Looking for information regarding Cloverdale community tickets to the festival?