| | | |
| --- | --- | --- |
| Main Hall | Members | Non-Members |
| Weekdays (Monday to Thursday) | $275.00 | $550.00 |
| Friday | $350.00 | $700.00 |
| Saturday | $800.00 | $800.00 |
| Friday & Saturday (2 days) | $500.00 | $1,000.00 |
| Sunday (until 6:00 PM) | $350.00 | $700.00 |
| Friday, Saturday or Sunday | $275.00 | $550.00 |
| Weekend (Fri, Sat & Sun) | $400.00 | $800.00 |
| Small Gatherings of under 50 | $225.00 | $450.00 |
| | | |
| --- | --- | --- |
| Lounge | Members | Non-Members |
| Weekdays full day | $125.00 | $250.00 |
| Friday | $75.00 | $150.00 |
MAIN HALL
Weekdays (Monday to Thursday)
Members: $275.00 | Non-Members: $550.00
Friday
Members: $350.00 | Non-Members: $700.00
Saturday
Members: $800.00 | Non-Members: $800.00
Friday & Saturday (2 days)
Members: $500.00 | Non-Members: $1,000.00
Sunday (until 6:00 PM)
Members: $350.00 | Non-Members: $700.00
Friday, Saturday or Sunday
Members: $275.00 | Non-Members: $550.00
Weekend (Fri, Sat & Sun)
Members: $400.00 | Non-Members: $800.00
Small Gatherings of under 50
Members: $225.00 | Non-Members: $450.00
LOUNGE
Weekdays full day
Members: $125.00 | Non-Members: $250.00
Half-day 
Members: $75.00 | Non-Members: $150.00
Memberslive within the Cloverdale community and hold a current membership card/number (Non-Members reside outside the geographical boundary of the Cloverdale Community League – CCL).
The rental feeis due at the time of booking; payment will be deposited at that time. If you need to cancel, you must inform us no less than 10 days prior to the date of your event for a full refund. However, cancellations made in less than 10 days prior to the event date will receive a refund of their damage deposit, but NO refund of the Rental Fee. If for any reason CCL is unable to honor a booking, all monies paid will be fully refunded to THE RENTER.
A Damage Deposit of $750.00 will be required for ALL rentals (including small meetings & parties), due on or prior to the date of rental, which will be refunded minus any extra ordinary cleaning or repair costs. We accept personal cheques from CCL Members that can simply be voided, however NON-members must provide the damage deposit in CASH or CREDIT CARD only.
Renters that are serving liquor MUST have a valid liquor license (by law) as well as Event Insurance and provide copies of both to the Hall Manager prior to the event. Please stipulate Cloverdale Community League as "3rd Party Insured" on your policy if possible.
Event Insurance Links:
https://ama.ab.ca/insurance/products/events-liability-insurance
https://www.palcanada.com/en/special-events-liability
http://www.brokerlink.ca/blog/event-insurance
According to the Tripartite Agreementwith the City of Edmonton, CCL is not allowed to rent the hall to persons, private businesses or organizations that want to hold an event for the purpose of conducting business (selling or promoting a product or service) for profit. According to the agreement; "League facilities cannot be used for commercial purposes, which are defined as "commercial, retail, business, or merchandising activity or undertaking, profession, trade, occupation, or an activity providing goods or services by a for-profit entity."  CCL is also not allowed to rent the hall for anything illegal or in violation of City bylaw, and must… "Endeavor at all times to avoid annoyance or inconvenience to residents [near the facility] by reason of public safety concerns, noise, or activities likely to interfere with the quiet enjoyment of their premises by the neighborhood residents."  An example of this type of event are birthday and/or graduation celebrations where alcohol is being served to many (50-120) young people, as this can be an invitation to others completely outside the scope and control of the invited guest list (word of a party can be readily and quickly spread city-wide through social media networks), and therefore the possibility of unwanted persons entering our community becomes a very real possibility.  Ticket Sale Events are NOT permitted at Cloverdale Community… "events where the host is selling tickets for the event to the general public and there is no way of knowing how many will attend. Such events require a fully licensed public venue such as a restaurant, pub or theatre, etc."  CCL therefore reserves the right to, according to the Hall Manager's discretion, deny rental to any party that they believe could potentially be in violation of the (above) tenets and rules contained in the Tripartite Ageement we have with the City of Edmonton.
Hall access is through a 4-digit PIN code provided prior to the start of your event. As the code holder you are required to always secure all entries and exits whenever you (the code holder) are not on the premises

, even if someone else is still there.
If you would like to rent the Cloverdale Hall, you will have to agree to the terms and conditions laid out in the following Rental Agreement.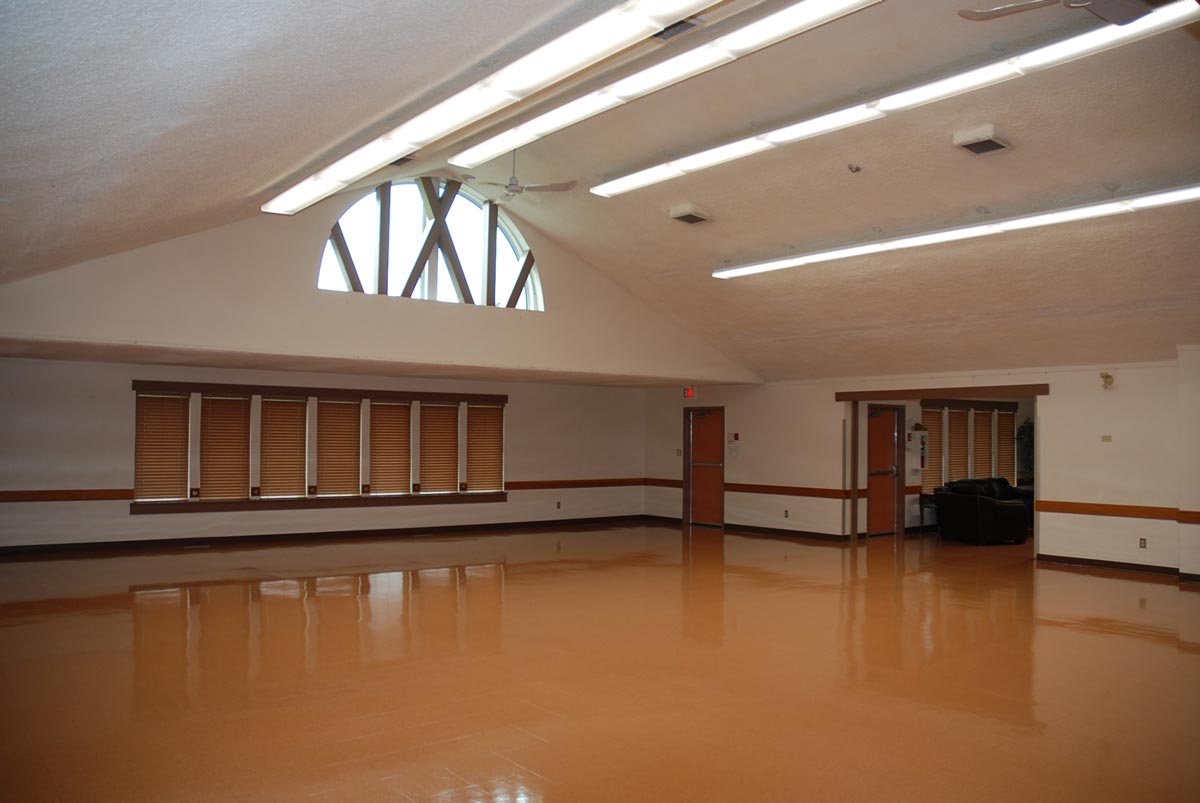 Please send us your event details if you would like to request Hall Rental.
Let us know if you need catering, bar tending or extra lighting and sound services as we can refer you to third-party people and companies (prices established by these people/companies).
If the information on this site does not satisfy your questions, or you need immediate response…
Call the Hall Manager at 780-465-0306 or email rentals@cloverdalecommunity.com
1. What space is available to rent?
Total 1760 sq. ft.  (see floor plan here)
Main hall – (see photo gallery)

Capacity 150 comfortably with 26 rectangular eight foot tables and grey stacking chairs or 190 lecture style
Large south facing windows to park area for plenty of natural light
serving area for beverage/bar or food off main hall

Lounge – (see photo gallery)
Capacity 16 with six tables 3 ft. square – 12 foam backed blue chairs, couch and loveseat allows for seating for 6 by the cozy fireplace
2. What are the space amenities?
Kitchen space – kitchen at Cloverdale is not stocked. Caterers enjoy the open shelves, spacious counters, large cooler, triple stainless sink and 2 gas stoves
Restricted bar area opens into the hall with a pass thru to a stainless steel serving sink, counter and a stand up cooler
Mobility accessible hall includes washrooms, ramp and wide doorways
A small podium has a microphone and great sound from two speakers
Smart TV is in the lounge.
Wi-fi available
Heart resuscitator on site
New air conditioning and hrv for good air quality
Large new deck wraps around the west and south corner of the hall
BBQ
Outdoor gazebo for outside gatherings overlooking Gallagher park. – first come first serve, no booking
3. Are ticketed events allowed?
4. What is the booking end time?
The end time for all events is 1:30 AM, zero exceptions out of respect for our residents
5. What are the rental rates?
| | | |
| --- | --- | --- |
| Main Hall | Members | Non-Members |
| Weekdays (Monday to Thursday) | $275.00 | $550.00 |
| Friday | $350.00 | $700.00 |
| Saturday | $800.00 | $800.00 |
| Friday & Saturday (2 days) | $500.00 | $1,000.00 |
| Sunday (until 6:00 PM) | $350.00 | $700.00 |
| Friday, Saturday or Sunday | $275.00 | $550.00 |
| Weekend (Fri, Sat & Sun) | $400.00 | $800.00 |
| Small Gatherings of under 50 | $225.00 | $450.00 |
| | | |
| --- | --- | --- |
| Lounge | Members | Non-Members |
| Weekdays full day | $125.00 | $250.00 |
| Friday | $75.00 | $150.00 |
5. What are the rental rates?
MAIN HALL
Weekdays (Monday to Thursday)
Members: $275.00 | Non-Members: $550.00
Friday
Members: $350.00 | Non-Members: $700.00
Saturday
Members: $800.00 | Non-Members: $800.00
Friday & Saturday (2 days)
Members: $500.00 | Non-Members: $1,000.00
Sunday (until 6:00 PM)
Members: $350.00 | Non-Members: $700.00
Friday, Saturday or Sunday
Members: $275.00 | Non-Members: $550.00
Weekend (Fri, Sat & Sun)
Members: $400.00 | Non-Members: $800.00
Small Gatherings of under 50
Members: $225.00 | Non-Members: $450.00
LOUNGE
Weekdays full day
Members: $125.00 | Non-Members: $250.00
Half-day 
Members: $75.00 | Non-Members: $150.00
6. How much is the damage deposit?
$750. Renters must purchase host liability insurance and applicable liquor permits. (See rental agreement) Damage deposit required 3 weeks prior to the rental date.
7. Is there a discount if you are a Cloverdale resident?
Yes, Cloverdale Members can be eligible for a discount, subject to the current discount policy in effect. (See pricing and booking form)
8. Can I get a walk thru of the facility?
Yes a walk-thru of the facility can be arranged. A copy of a valid government-approved photo ID will be required.
9. What is the process to book the facility?
Complete the rental form and submit with dates and details about the proposed rental event. (See rental request form (Renter name, address, email, phone, date/day of rental, times of rental, type of rental, details of rental, # of guests, food service style, alcohol served, music style, wi-fi, and podium requirement)
Your rental request will be reviewed and responded to by email within two business days.  
Payment of rent amount required to secure your desired rental date.