Message from the CCL Board
COMMUNITY CELEBRATION AND DECK
On June 2 the Cloverdale Community League (CCL) celebrated the completion of our energy efficiency renovations and the new wrap-around and accessible deck. More than 200 friends, neighbours, and guests came out to our Community Celebration to see the renovations and the positive change the energy efficiency upgrades have created for the hall and our bottom line.

The $370,000 energy project includes a new HVAC system, water heater, extra insulation in the attic and crawl space, LED lights, and a more tightly sealed building envelope with new windows and doors. The new maintenance-free metal roof is capped off with a 19.2 kW solar panel system. Remarkably, between August 2018 and June 2019, the solar panels have generated renewable electricity equal to about 50 percent of the total electrical consumption in 2016.
A separate project helped the CCL replace the hall's existing deck with new composite material, install new railings and a service ramp. The new deck is completely accessible as well.
Grants from various levels of government and other funding bodies helped the CCL complete the projects within our budget. The projects also contributed to the Edmonton economy by providing employment to a number of businesses in the city. Thanks to all the volunteers, contractors and funders who shared our vision of an energy efficient, comfortable hall that we all are proud to visit and enjoy. Thanks as well to the volunteers who helped plan and organize the CCL Community Celebration. Your ideas, creativity and hard work resulted in a wonderful 'capstone' event for the hall renovations.
CLOVERDALE CLEAN AND GREEN
On May 26, the Cloverdale Community League held its annual River Valley Clean Up, Pancake Breakfast and second annual Big Bin event. More than 75 people attended the pancake breakfast. Then, fueled up and caffeinated, they spread throughout Gallagher Park and the streets and alleys of Cloverdale to pick up debris that was uncovered by the retreating snow.
About 45 households (approximately 10 percent of households in Cloverdale) collected and delivered 4,250 kilogrammes of waste material to the two huge dumpsters that were at the hall. The amount is approximately 17 per cent more than the amount collected in 2018.
The neighbourhood looks great and prepared to host the many visitors that enjoy summer in Edmonton river valley.
UPCOMING EVENTSAs we head into the summer watch for information about seasonal parking programmes for Accidental Beach and the Edmonton Folk Music Festivals in your mail-box, at the CCL website and our Facebook page
The Gallagher Park Playground will host a Pop Up Playground from July 2 to August 22 on Tuesdays and Thursdays, from 2:30 PM to 6 PM, for children ages six to 12. Cloverdale will also host a City of Edmonton Day Camp "Cool Creations" from Monday to Friday, July 8 to 12 from 9 AM to 4 PM. Cost is $169. To register, call 311.
The Cloverdale Community AGM will be on Monday, September 23. Consider doing your part to keep the CCL active, dynamic and responsive to the community. There will be a number of board positions available at our AGM in September. The board is a great group of neighbours that volunteer their time and talent to deliver a variety of programs and activities for all ages, and to maintain the hall and rink for your benefit. We'd love to have you join us. The work is satisfying, challenging and rewarding.
Enjoy your summer and see you around the neighbourhood. – Your Cloverdale Community League Board
Mark Your Calendar
Get ready to join the neighbourhood at these upcoming activities at the league hall, 9411 97 Avenue. Check the CCL website for regular updates.
CCL Annual General Meeting: Monday, September 23, 2019 at 7 PM. Join the community to make decisions for the future, hear reports from the board about the past year and volunteer to get involved.
CCL Halloween Party: Sunday, October 27
CCL Christmas Party: Sunday, December 7
NEWS: VOLUNTEER OPPORTUNITIES ON CCL BOARD
Volunteers are the heart and soul of the Cloverdale Community League! We're looking for volunteers to fill a number of positions on the board at the AGM on September 23. The time commitment for each position varies, but we try to keep it manageable. Family, work and volunteer life balance is important. These positions will be open for elections in September:
President
Secretary
Communications
Edmonton Ski Club Liaison Chairperson
Social Director
Programme Director
Membership Director
Seniors Director
The work is satisfying and rewarding. It's an opportunity to share your skills and learn new ones. It's an opportunity to meet your neighbours, focus on developing the assets of Cloverdale and give back to the neighbourhood. For more information, including job descriptions, contact Reg at president@cloverdalecommunity.com.
NEWS: BENEFITS OF CCL MEMBERSHIP
Membership in the CCL is one of the best deals in town. Not only does it open the doors to a lot of neighbourhood-based activities for you and your family, it also provides you with discounts at City of Edmonton recreation facilities. The Community League Wellness Programme offers the following discounts:
Annual Membership – 20 per cent discount on Adult, Family, Child, and Youth/Senior Annual Memberships.
Multi Admission Pass* – 15 per cent discount on already discounted multi admission pass (5+ visits) *Applies to new purchases only.
Continuous Monthly Membership – 20 per cent discount on an on-going monthly membership.
For more information about Cloverdale Community League Membership, please contact Karen at membership@cloverdalecommunity.com.
NEWS: SPRAY PARK IS OPEN!
A sure sign of summer is the opening of the spray park at the CCL playground and park. The spray park is a great place for children and parents to meet and enjoy the sunshine. Enjoy!
NEWS: POP-UP PLAYGROUND (AGES 6-12)
Check out Gallagher Park for exciting summer activities for kids!
The City of Edmonton will be running a Pop-up Playground at the Cloverdale Community League Playground from July 2to August 22, Tuesdays and Thursdays from 2:30 PM to 6 PM. Keep your eyes peeled for the playground flags. Join in a variety of activities from crafts, games, sports and free play.
NEWS: DAY CAMP – COOL CREATIONS (AGES 6-9)
Is your child looking to learn new skills and make some really cool creations? This is the camp for them. Campers will learn how to tie-dye, and try their hand at concoctions such as homemade chocolates and slime. They will take home a new creation every day! Course #657276 runs from July 8 – 12, daily from 9 AM – 4 PM at the Cloverdale Community League Hall, 9411 97 Avenue. Register with the City of Edmonton: Online at MoveLearnPlay.edmonton.ca; call 311 or 780-422-4311 or in person at any City facility during hours of operation. Cost: $135 (4 days), $169 (5 days).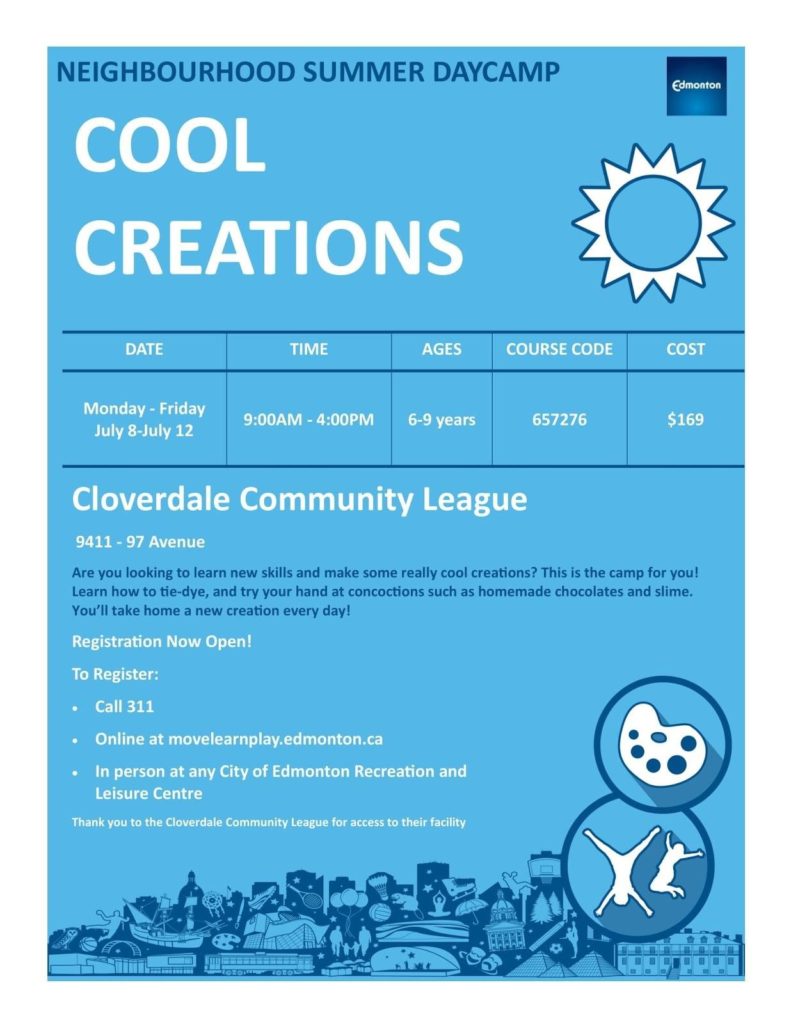 Features
Summer's here and so are Block Parties
We have at least 35 new families in Cloverdale – yes, it's true. But do you know your new neighbours?
With the warm weather, many people are tending their yards and generally doing more outside activities. So to meet your new neighbours, why not plan a Block Party to help make them feel welcome? I challenge each of you to invite and meet at least one new resident.
Over the next while, your Block Connector or Point Person may be sending out notices. Perhaps you live in a multi-family complex and don't know if you have a Block Connector? Check with me (contact below) and I'll help coordinate an event for your area or advise you who your Block Connector might be.
Most Block Party events are potluck and can be very simple or full on meal. Bring out the bocce balls or just have great conversations. The real idea is just to reach out to meet your fellow Cloverdalians. Some upcoming parties:
June 22: Folks on 96 Street are have their get together – first in Cloverdale in 2019 thanks to Michelle. It'll be held north of 97 Avenue.
June 25: 96A Street north is having their gathering at the home of Mary and Al.
Let me know when your block or building is having their event. Contact me, Marilyn Mucha, at neighbourhoodconnector@cloverdalecommunity.ca or 780-901-0323 and I promise to bring a dish and lemonade.
Book the CCL Hall Today
Go 'Clean and Green' at your next family or business function. The newly renovated Cloverdale Community League hall has many of the latest energy efficiency features you could want for a clean and green event. From LED lights to solar panels, power your next event with renewable energy in a park like setting.
We have the perfect space for your spring and summer parties! We're centrally located in the heart of Gallagher Park with access to year round recreation opportunities. We offer great scenic backdrops for your photos and memories. Whether it is a wedding, family reunion or a BBQ, let us be your hosts at our great facility!
The Cloverdale Community League hall is the perfect venue! Room to move, party, mingle or just chill out. There's plenty of room for 15 to 150 people. The hall has all the amenities, including Internet access, needed to host your special event!
The recent renovations will let you relax and enjoy Gallagher Park from the comfort of our new wrap-around deck. Indoors, a range of energy efficiency renovations will help you socialize or work in comfort. Go Green at your next event at the Cloverdale Community League hall.
Whether it's a business meeting or a social, the Cloverdale Community League can accommodate your gathering. Email Janet to book a date and view the hall: rentals@cloverdalecommunity.com.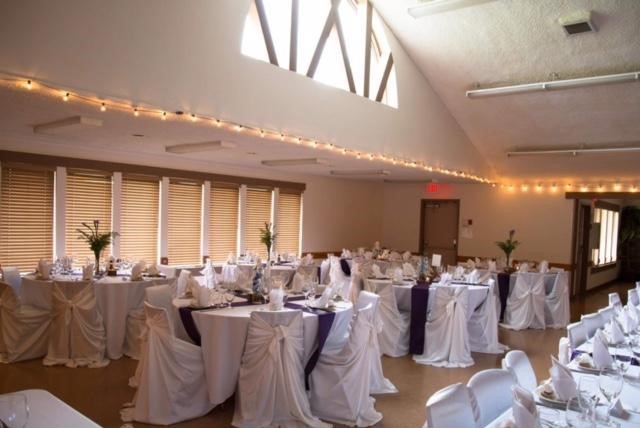 ECO SOLAR TOUR COMES TO CCL
Mre than 200 friends and family gathered at the Cloverdale Community League Hall on June 2. Thanks to the many volunteers and contributors that made the event possible! This $370,000 energy efficiency renovation touched virtually every corner of the building and will have a lasting impact on the community league.
Over the course of two years, the CCL took steps to increase the comfort of the hall, reduce energy consumption and increase the life of the building that was constructed in 1986. Attic insulation increased from R23 to R66. New windows and doors and draft-proofing dramatically reduced drafts in the hall. The new HVAC system and LED lights replaced the original equipment from the 1980s and reduced the amount of energy needed to heat and light the hall. A new metal roof replaced the tired and worn asphalt shingles. The 19.2 kW solar panel system is estimated to supply about 70 per cent of the electrical consumption of the hall. In fact, since August 2018, the solar panel system has produced renewable power equal to about 50 per cent of the CCL's hall electrical consumption in 2016.
Inside the hall, community league volunteers fielded questions about the hall renovations, since much of the work was behind the scenes and not easily accessible to the public. Staff from the Edmonton Public Library was on hand with their Home Energy Kits and lots of resources to help educate homeowners about energy efficiency technology. The City of Edmonton staff provided information about the City's Climate Transition Strategy. Staff from Carbon Busters/C-Returns, the CCL's project managers was also on hand to provide technical information about the various features of the renovations. The Edmonton Federation of Community Leagues also provided information about their "Green Leagues" programmes.
Outdoors there was plenty to see and do on the new composite material deck as well. Electric Vehicle Association of Alberta volunteers shared their knowledge and expertise and showed off various electric vehicles. The Art Gallery of Alberta staff helped youngsters complete wonderful art creations with found materials. Foundary Real Estate with their popcorn machine and the Ohana Donuterie food truck were on hand to energize the kids at the bouncy castle.
The CCL's project was funded in part from generous grants from the City of Edmonton, the Province of Alberta, the Alberta Eco Trust and the Municipal Climate Change Action Centre (MCCAC), in addition to the CCL's own funds.
Councillor Scott McKeen and MLA Marlin Schmidt were on hand to congratulate the CCL on its achievement.
The CCL is proud of our achievement. A lot of time and effort went into project planning, writing grant submissions, project management and execution. We've worked incredibly hard to breath new life into the hall and to make it more energy efficient and comfortable.
All that effort is now paying dividends. Thanks again to everyone who had a hand in making it possible.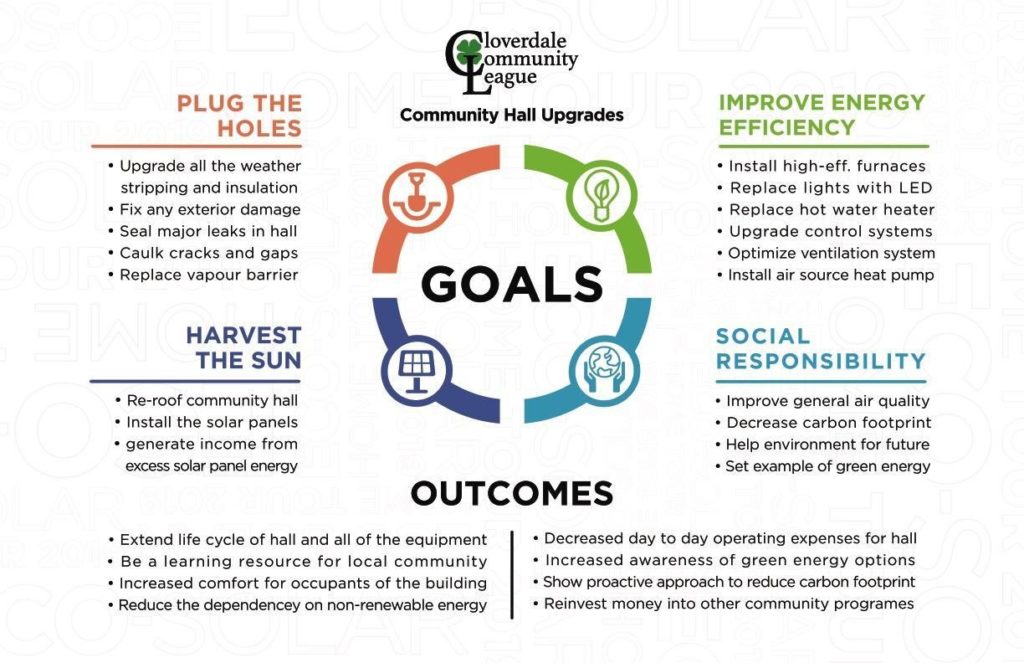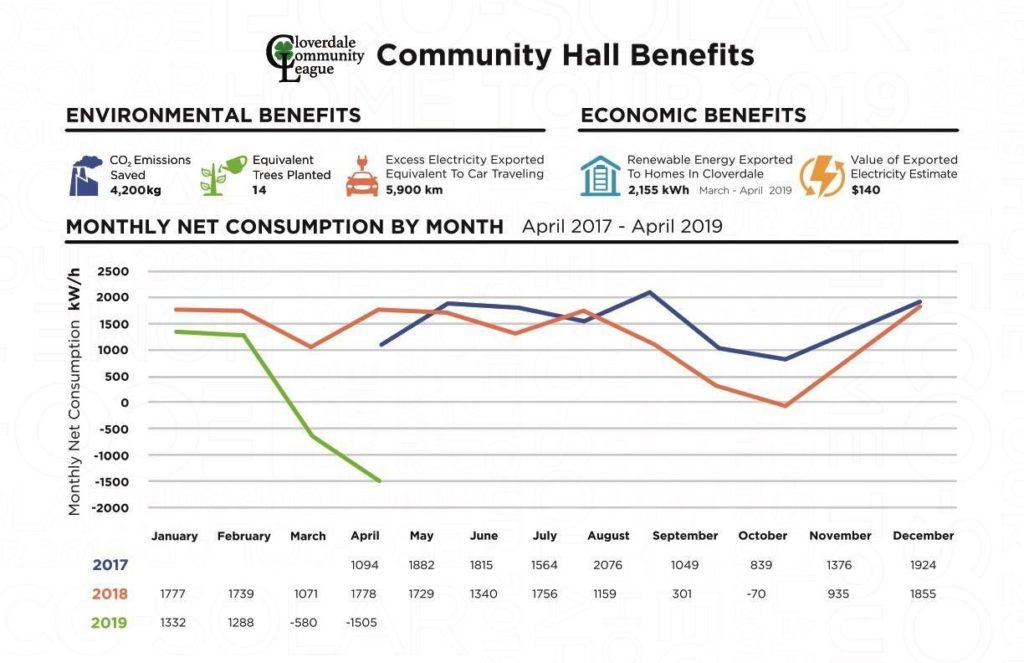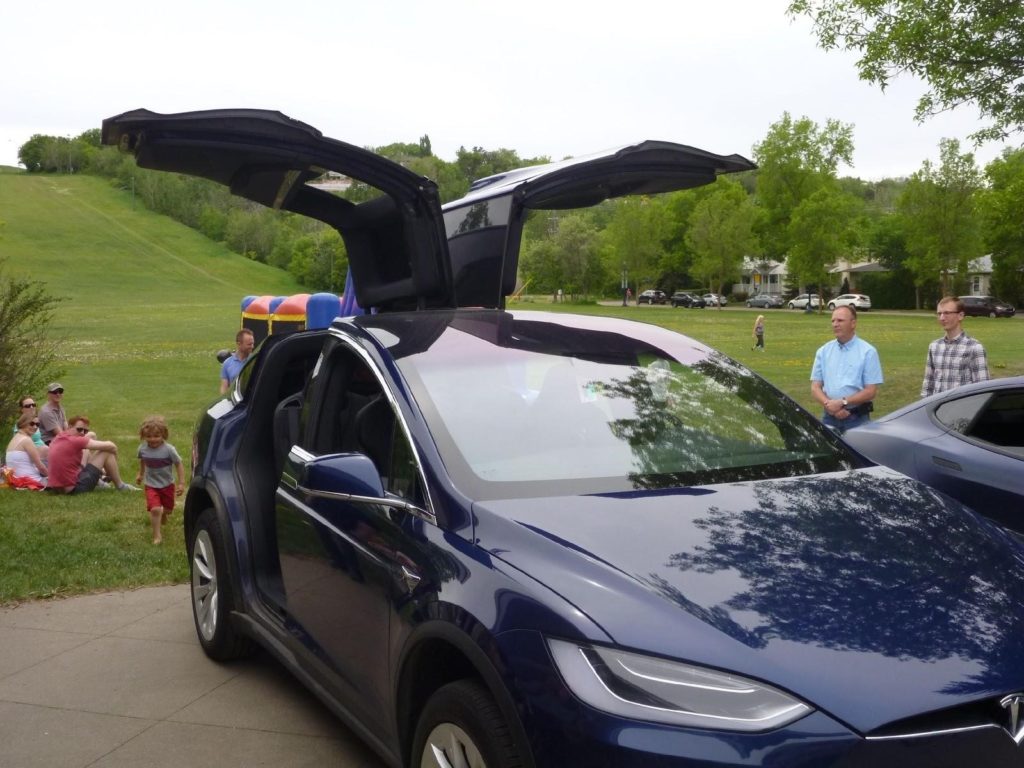 FLOOD MITIGATION
This past winter, the Flood Mitigation Committee included an article in the Chronicle on flood mitigation, insurance options, and measures homeowners can take to help protect their homes from water in unwanted places. As a reminder, EPCOR has developed a webpage with some great information further explaining flood risks, including from heavy rain events, sewer line back-ups, and high river levels. On this webpage you will also find a link to EPCOR's High River Level Community e-mail list.
Cloverdale residents are encouraged to visit this website, review the information about flood mitigation and register to the e-mail list. E-mails are only sent in the event of high river levels to provide immediate and accurate information directly to homeowners.
As stated on the website:
"We would like to provide members of the Rossdale, Cloverdale and Riverdale communities with an email notice to inform them if the North Saskatchewan River levels rise. This is a proactive communication ensuring that residents can prepare for and mitigate any potential flooding.
Please take a moment to fill in the form below providing your contact information so that we may keep in touch with you if such an event arises." – EPCOR
https://www.epcor.com/products-services/drainage/flooding-flood-prevention/Pages/default.aspx
RIVER VALLEY CLEAN UP
Sunday, May 26 turned out to be a beautiful day, not just because the weather was warming, but rather due to the vast community coordinated effort to clean our wonderful park, surrounding areas and the local streets and alleys that constitute our neighbourhood.

Most participants, 76 in total, commenced the day by feasting on a delicious breakfast of pancakes, sausages, yogurt, fruit and coffee/tea/juice. We are grateful to Wayne and Janet for preparing this meal and getting everyone off to their designated areas with smiles on their faces and bellies full.
By 1:00 PM, most of the participants had returned and disposed of their collected items. Our community was transformed, once more, into a spectacular oasis in the heart of the city.
Thanks again to all the volunteers who helped Bob set up and later clean the area and put away all the tables,chairs and related food items.
Activities, such as the river valley clean up, help bond communities and make their inhabitants proud to live there. This year was no exception. Well done Cloverdale.